Obi-Wan Finale - The Loop
Play Sound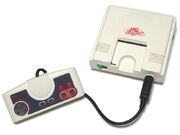 The PC Engine (PCE) was a 16-bit system released by NEC in 1990. It is known as TurboGrafx-16 in other regions outside of Japan. PC Engine CD (PC-CD) was a CD addon.
The PC Engine SuperGrafx was an upgraded version of the PC Engine that could still play standard PCE games. Only 7 games were released for it.
Emulators
Comparisons
Mednafen is great. It has two PCE cores: PCE-Fast and PCE-Accurate. It also has a PC-FX core. Its main version is command line.

pcejin

is a version of Mednafen's PC Engine emulation for Windows with GUI. Linux users should use Mednafen with a GTK GUI[2].
Ootake is okay for general purposes.
RetroArch can run Mednafen's PCE-Fast core.
MagicEngine only has a free demo available. The full version costs €15 EUR. There is no reason to buy it when there are better free options available.