General Resources
Programs
General purpose 2D graphics/tile editor
Tile Molester. Works with Java, practically can edit any game.

Hex Editor
XVI32 or Translhextion. You can edit the bytes of the ROMs, i.e. everything. Some values are obvious and some text is already ASCII.
Game Specific
Super Mario World
Super Metroid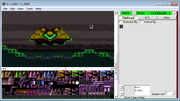 The Legend of Zelda: A Link to the Past
EarthBound
Yoshi's Island
Final Fantasy III (VI)
Final Fantasy Tactics
Fire Emblem
Pokémon
Sonic the Hedgehog
Mega Man X
Downloads
Community content is available under
CC-BY-SA
unless otherwise noted.