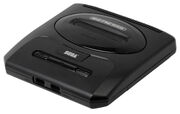 The Sega Genesis is a 16-bit, 4th generation console released by Sega in 1989 in North America. In other regions, it was known as the Mega Drive. It had several addons, including the Sega CD (a CD addon, called Mega CD outside America) and the 32X (a 32bit cartridge based addon). 
Genesis emulation is very good, with high degree of game compatibility (many of them claiming nearly 100% compatibility with commercial games, including Virtua Racing). They are available on many platforms. Many Genesis emulators also feature compatibility with the Sega Master System (SMS), and the Game Gear (GG) aswell as earlier sega consoles (Genesis based arcade boards and the sega Pico are still sketchy).
Emulators
Comparison
Kega Fusion is a very good emulator with high compatibility, coded by an ex-sega staffer! It is easy to use as well, good interface and plugin based filter support too.
Regen is also very good with high compatibility. Lacks 32X and Mega CD support.
GenesisPlusGX is too also very good with high compatibility. The only thing it lacks is 32X support, the port for RetroArch adds shader support, dynamic sync and the other features of RetroArch.
Exodus is cycle-accurate, and has VERY high system requirements. It is the newest Genesis emulator, and is likely far from complete. It currently only supports the regular Sega Genesis and no other systems.
GENS, while having many iterations, is still a very good emulator and very close to Kega Fusion but still has issues. Depending on which version you get your experience will differ quite a lot.
BlastEm aims for cycle accuracy but for lower system requirements. It is very early in development however.
Community content is available under
CC-BY-SA
unless otherwise noted.